Welcome to "La Boutique de Provence à Tokyo"
We offer high quality products from Provence, working directly with a network of French producers with whom we have a privileged and personal relationship.

Our products are available online,  in our show room at Chuo-ku, several market places in Tokyo and in French fairs (look at our events schedule).
Golden Week Special Sale Event
               Free entry!


Date: 2019 May 5 (Sunday)
Opening hours: 11 am to 5 pm
Place: Bio Value Inc. /Danzatakara studio
Address: Tokyo, Chuo-ku, Shintomi 2-1-7
               Fuji Chuo Bldg B1
(Yurakucho line, Shintomicho station exit 2, less than 1 minute walk)
Last Sunday of Golden Week
⭐️Calissons d'Aix and olive oil tasting and sales
⭐️Provence fabric and handcraft (table clothes, kitchen accessories and more)
⭐️Mini Provence buffet (Daniel's home made Provence cuisine

❗️

)
If you have a walk around Ginza or Tsukiji on that last GW Sunday, stop by for a short visit and enjoy a taste of Provence.
Au plaisir.
Daniel Fillit
Tae Murai Fillit
Calisson d'Aix

This delicate candy, specialty of Aix-en Provence, consists of well-ground white almonds, melted with selected candied fruits and home-made fruit syrup, based on a thin sheet of wafer, and covered with a bright white icing. It has become over the centuries the gastronomic emblem of the famous city of Aix-en-Provence.
Organic extra virgin olive oil
The production of olive oils in France is very low compared to neighboring countries, Spain or Italy, since olive trees, because of the climate, can only grow  in the south-eastern part of the country, but its quality is considered as one of the best, due to specific varieties of olives, soil, climate and traditional methods of harvesting... Read more...   Buy now!
Organic Provence herbs
Cultivated, harvested and packaged in Provence, which is their original land, these organic Provence herbs have an exceptional aroma.
They are a mixture of savory, oregano, thyme, rosemary, a cornerstone in Provence cooking.
A healthy farming, without chemical treatments and a good management of water supply... Read more...
Provence specialties
You will find here the some specialties of Provence, ready to eat or simple to cook, such as: Tapenades, anchoiade, olives vertes, soupe de poisson, rouille, sardines...
Read more...
Marseille soaps
Most hygiene products sold in supermarkets today contain detergents and many other substances whose sole purpose is to clean the skin. Most of these substances attack the epidermis, dry and disrupt its balance. The producer "Perle de Provence" produces the traditionally made soaps with natural ingredients... Read more...
Lavender products
Handmade from organic  lavender flowers and high quality Provence fabric by traditional producers and artisans in the Alpes de Haute-Provence, these sachets of lavender will perfume and decorate wonderfully your housing environment.
Read more...
Provence fabric
Handcrafted by an old artisan, in the city of Aubagne, using genuine Provence fabric made of 100% cotton, we carry a large selection of aprons, table clothes, napkins, luncheon mats… lovely designed with Provence motifs and colors.
See more...

PROVENCE GASTRONOMY AND HEALTH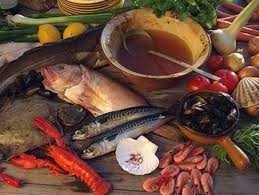 An aromatic and gourmet cuisine:
French gastronomy is worldly famous for many reasons: long culinary history and tradition, many varieties of soils and climates are parts of this chemistry.
Among all French regions, Provence is particular at many points: its southeastern location, bordered by the Mediterranean sea and the Alps mountains... Read more...